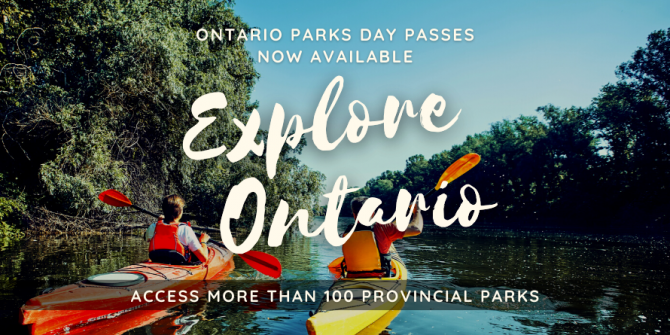 Did you know there are over 100 provincial parks in Ontario? Markham Public Library (MPL) is excited to take part in the Ontario Park's Healthy Parks, Healthy People Program. Starting on April 1, you can borrow a day-use pass which provides one vehicle with access to all the provincial parks in Ontario.
This park pass lending program is a new initiative through Ontario Parks in efforts to help more Ontarians to get outside and enjoy their local provincial parks by making it more affordable. You can find a list of Ontario park locations here.
Each park pass can be borrowed for one week with one renewal, given there are no holds on it. When you borrow the day-use pass, you will also get a $5 coupon for a future daily vehicle permit purchase as well as an Ontario Parks guide (as supply last).
Ready to explore Ontario? Here's how to borrow the day-use pass: 
Head over to our online catalogue and search for "park passes"
Place a hold on the pass online and arrange for a curbside pickup
For information on overdue fees and lost charges, please check the FAQs.