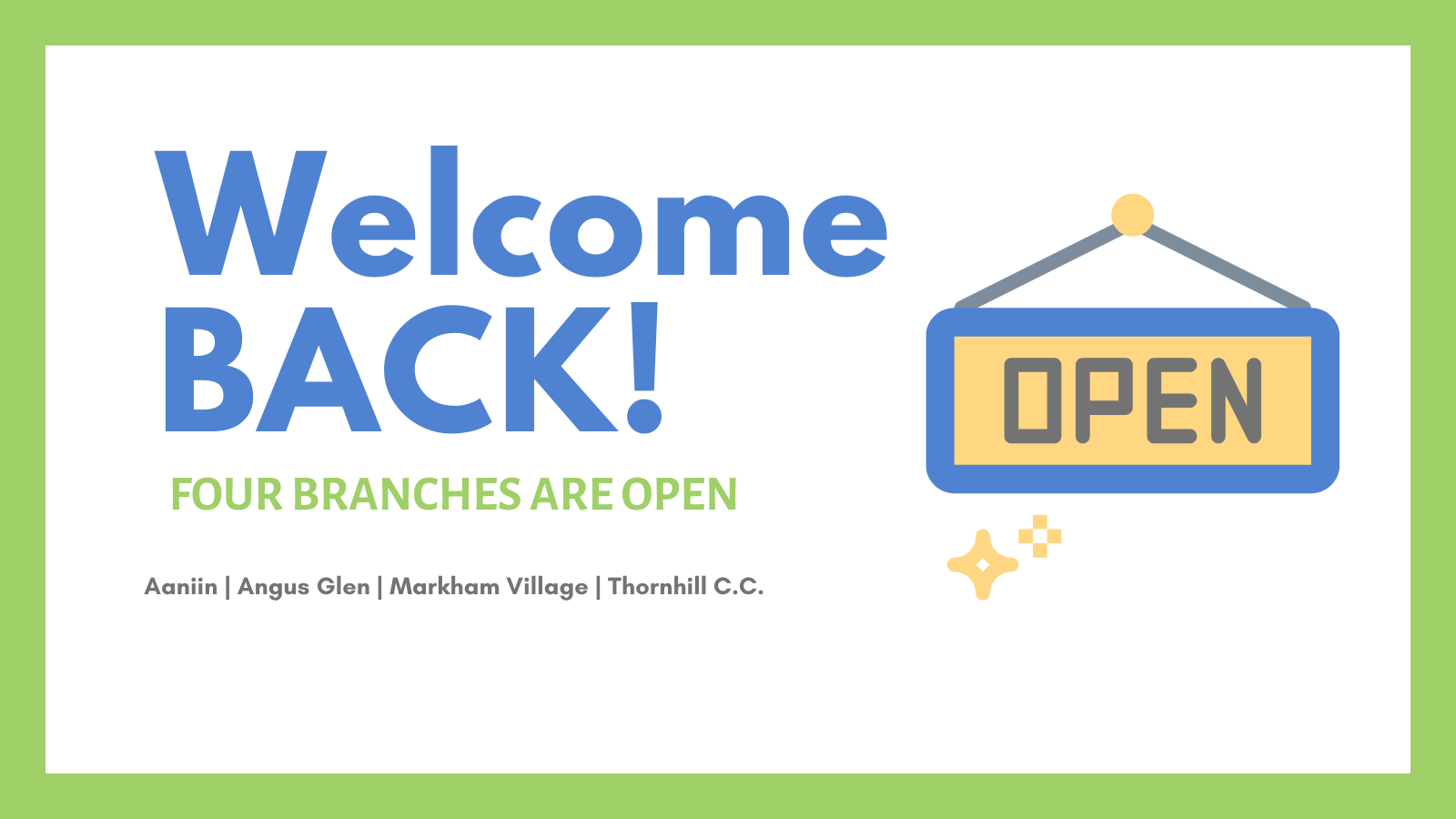 SERVICES AVAILABLE NOW
As part of the City of Markham's plans for reopening during Stage 3, it's time to turn the lights back on and welcome you back to the Markham Public Library (MPL) as we gradually reopen!
We can't wait to see you at one of the following locations:
Starting October 13, 2020, you can enjoy the following services at these branches during select hours:
Pick up your holds from inside of the library branch 

Return your library items using the drop box

Access public computers (pre-booking required)

Print, scan and photocopy (pre-booking required and USB key for scanning)

Get a library card

Get exam proctoring
Hours:
Monday, Wednesday, Friday | 10 AM to 6 PM
Tuesday, Thursday | 1 to 9 PM
Saturday | 9 AM to 5 PM
Access to public computers at Angus Glen will be available in November.
WHAT WE'RE DOING TO KEEP YOU & OUR STAFF SAFE
The health and safety of you and our staff is our top priority. That's why MPL has worked with health and safety experts from the City of Markham to put in place strict measures that ensure the facility is clean and safe for you to use. Here are some of the enhanced safety and cleaning protocols we are following:
A professional cleaner to conduct thorough cleaning of each branch twice daily
Staff are trained in the proper cleaning procedures
Library equipment disinfected hourly
Study rooms disinfected after each proctoring session
Tables, chairs, staff workstations and counters disinfected after each use
Door handles and automatic buttons disinfected regularly
Entrances cleaned twice daily
WHAT TO EXPECT WHEN YOU VISIT
When you visit us, you'll notice we've made some changes to ensure a safe experience for all visitors… but you can expect to see the same friendly faces and quality customer service from the MPL staff.
The following public health guidelines and protocols are in place to help keep everyone safe while using the library:
When you arrive at the library, staff will take down your name and contact information. In the event of a positive case of COVID-19 at the library, this assists Public Health with contact tracing and alerts you that you have been exposed.
In order to ensure we are meeting physical distancing requirements we are limiting attendance to 10 people in the branch at a time.
To help you maintain a physical distance of at least 2 metres from others, we've placed safety and directional signage at each library to help direct and guide you around the facility.
Please sanitize your hands when entering and exiting the library; as well as before and after using the computers.
At this point, our shelves are closed for browsing but you can browse our online catalogue and place a hold on the item you would like to borrow.
Toys and play areas are not available at this point.
Study rooms are not available at this time.
Public washrooms are not open for use.
NEED LEARNING RESOURCES FOR KIDS?
HOLDS PICKUP
To keep you and our staff warm in the colder months, we are replacing curbside pickup with in-branch holds pickup! Not only that, you no longer need to make an appointment to pick up your holds. You can pick up your holds at one of the four branches that are open. Here's how to pick them up:
Find your hold(s) on the shelf.  Holds are filed by the last 6 numbers of your library card number followed by the first 3 letters of your last name. 

Check out your item(s) with the self-checkout unit.

Enjoy!
If you had previously placed holds at the branches that are closed, you can now pick them up at the partnering branches.
Thornhill Village - Thornhill C.C.
Unionville - Angus Glen
Milliken - Aaniin
Cornell - Markham Village
RETURNS
The due dates for all items borrowed from before the closure have been extended to December 31, 2020. If you no longer need the items, please  return them using the drop boxes at the four open locations. These drop boxes are open 24/7 for your convenience. This allows the next customer to have a chance to borrow them. 

All items returned will be quarantined for 72 hours before checked into the system and placed on the shelf. This means it will take 5 to 7 days before your item is cleared from your account. Rest assured, you will not be charged any late fees. 

We are currently not accepting

toys, digital media lab equipment, Lendery items or donations.
COMPUTER, PRINTER & PHOTOCOPIER ACCESS
You can now use our printers, scanners and photocopiers by appointment. Here's how it works: 
You can book one computer per branch, per day,  online through

PC Reservation

or by calling 905.513.7977.

You will need your library card to complete the booking. If you do not have your library card or need a new one, please contact us at

AskMPL

or at 905.513.7977, our staff will be happy to help.

To use our printers, scanner and photocopiers, you must book a computer and bring USB key for scanning.

To maximize the number of customers we can serve, each appointment will be limited to 30 minutes long.
PROCTORING
We are happy to be offering proctoring service by appointment.  To book an appointment, please submit the online Proctoring Request Form. Our staff will contact you to schedule the appointment and make all of the necessary arrangements with you and your school. 
Payments can be made either in the branch or online at least one week in advance of the exam date.  Online Payment Instructions  [PDF]
Fee Information:
$15.64 per hour for Markham residents.

$15.64 per hour plus an additional $10 administration fee for non-residents.

Additional fees apply if shipping is required.
Please note, you will need a City of Markham program barcode and PIN to proceed with booking. If you do not have a City of Markham barcode, please call the Contact Centre at 905.475.4731 for assistance.
Exams are written in-branch. Study rooms are sanitized before and after use.
ARE YOU FOLLOWING US ON SOCIAL?
We continue to monitor and follow advice from public health officials at the federal, provincial and regional levels. The City is taking a responsible and measured approach to reopening, which is guided by the Government of Ontario's Framework for Reopening the Province and the City of Markham's Response, Recovery & Reinvention Plan. The health and safety of our visitors, staff and the community remains our number one priority.
We will keep you posted on the next steps in our reopening journey and look forward to seeing you soon.
LOOKING FOR VIRTUAL PROGRAMS?
ALWAYS AVAILABLE
Virtual Programs
We are also offering a wide range of virtual programs everyday. From Storytime to Older Adult Social; Essential Oils Workshop to Digital Marketing Workshop, we have something for everyone. Check out our exciting lineup of virtual programs now and these City programs.