Markham Public Library (MPL) is pleased to announce that its MPL Trail Project was selected for the My Main Street Community Activator program and has received $25,000 to animate the trails and main streets adjacent to Markham Village and Unionville Library branches making for a more accessible, inclusive and animated experience for the community. Through the Government of Canada's My Main Street Community Activator program, delivered by the Canadian Urban Institute (CUI), the MPL Trail Project will help support the revitalization of local neighbourhoods and help drive economic activity by animating public spaces and increasing visitors and foot traffic.
Join Us for MPL Trail Project Launch!
Check out MPL's new Trail Collection. Enjoy a guided nature walk. Join an outdoor storytime. Take part in a group bike ride with Markham Cycles.
Saturday, May13th at Markham Village Library and Unionville Library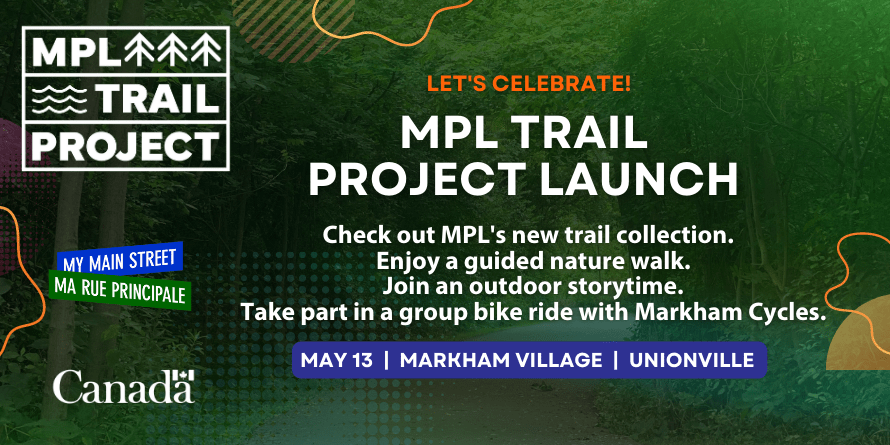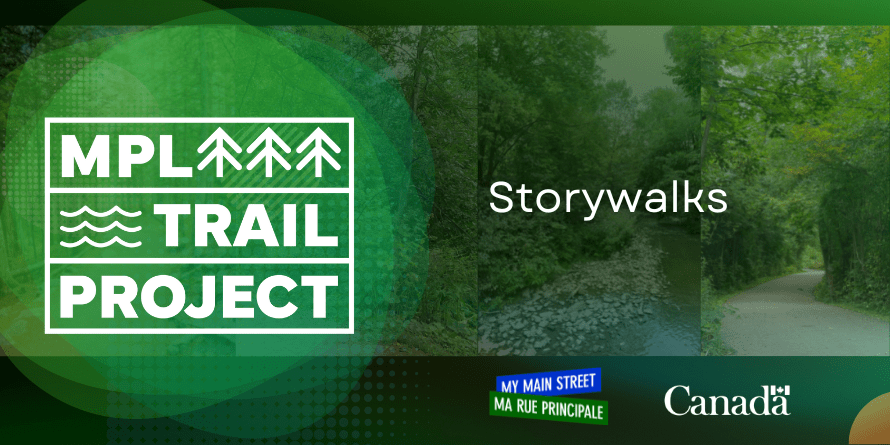 StoryWalk
When you walk around the two Markham trails, you will see our story walk signs. Scan the QR code to listen to some stories and poems written and read by local writers.
Trail Collection
Check out the Trail Collection at Markham Village and Unionville Libraries before you go for a walk in the trail. We have binoculars, bug nets, compass, insect capture box, magnifying glass, traction shoes, walking poles and more for you to borrow!
Local high school students are developing an app to animate the trails. You will be able to enjoy self-guided walks while learning about Markham's rich local history and ecology by scanning the QR codes on the signs along the trails. Stay tuned for more information on this exciting initiative.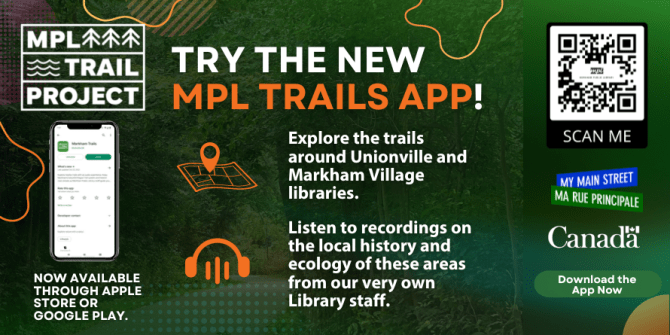 Trail Collection
What better way to spend your summer days than exploring the outdoors.
Trail Collection
Looking for something to do while you hike? Checkout this list of short audiobooks to keep you company.
Explore Local Shops on Main Street Markham & Unionville
Mainstreet
Main Street Markham is the original main street of the Village of Markham–one of Ontario's oldest communities with a rich & interesting past
Mainstreet
Main Street Unionville runs through the historical suburban community of Unionville and offers unique shops, tempting cafes and restaurants.
About Markham
Markham, an award-winning municipality with more than 356,000 residents and the largest of nine communities in York Region, is home to over 650 headquartered companies and more than 1,500 high tech and life science companies. Markham is a leader in attracting foreign direct investment with more than 234 foreign companies located in the City. Founded in the 1790s, today Markham is Canada's most diverse community and enjoys a rich heritage, outstanding community planning and services, and a vibrant local economy.