The Forest of Reading® is Canada's largest recreational reading program and an initiative of the Ontario Library Association (OLA). Designed to encourage a love of reading in people of all ages, the Forest helps celebrate Canadian books, publishers, authors, and illustrators.
WANT THE LATEST FROM MPL?
Reading Lists
Start Reading! We've put together reading lists for you to easily check out the nominated books by award category! Happy reading!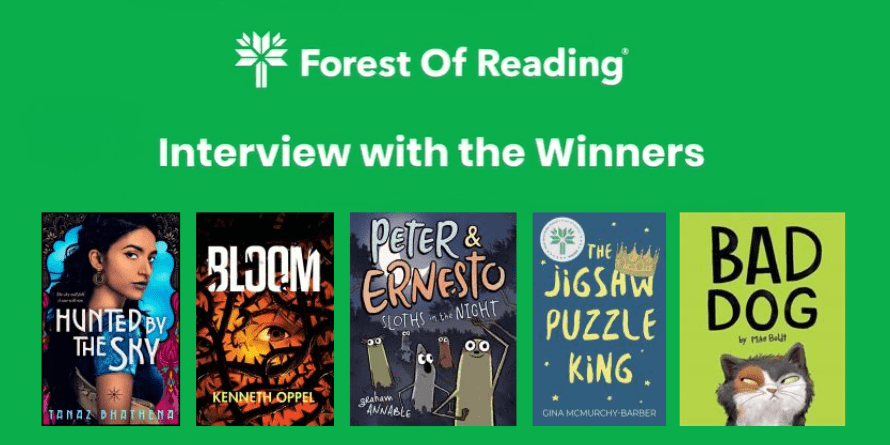 2021 Forest of Reading Award Winner Interviews
Hear from last year's authors about their award-winning titles. 2022 winners will be announced in May 2022 after voting in April.
THE SILVER BIRCH EXPRESS AWARD®
This list of nominated titles is aimed at children in Grades 3 to 4, and provides books with many different reading levels. ESL students, reluctant readers, special needs students, and other readers will find this mixed list of fiction and non-fiction exactly to their liking.
THE WHITE PINE AWARD™
This program offers teenagers the opportunity to read the best of Canada's recent young adult fiction titles. With this exciting list of nominations, teens will devour these books instantly. On voting day, students have a voice in choosing their favourite in the list of 10 nominated titles!
THE BLUE SPRUCE AWARD™
For many children, this is their first introduction to the world of books! This program helps children in Kindergarten through to Grade 2 develop the skill of evaluating a picture book based on the story and the pictures. Children vote to determine the winning book of the Blue Spruce Award after they have read or have been read to all the titles!
THE RED MAPLE FICTION AWARD™
This program is for students in Grades 7 and 8, and encourages Canadian writing and authors. Readers will get swept into these exciting fictional stories by Canadian authors while improving their reading skills!
THE SILVER BIRCH NON-FICTION AWARD®
The non-fiction titles in this program appeal to readers in Grades 5 to 6, and have been enlightening readers for over 20 years! In this program, children will learn about real life stories and facts ranging from history to hockey.
THE YELLOW CEDAR AWARD™
The Yellow Cedar Award celebrates books for readers in Grades 4-8. Ten great Canadian non-fiction books are celebrated.